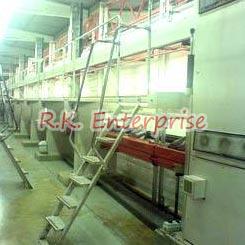 Textiles manufacturing is a global industry which since the dawn of humanity has become a key component of our civilization. As such, clothes and textiles are part of the tradition and propose the equipment and the future technologies that people have at their disposal.

The Process:
The textile industry encompasses a variety of procedures and equipment from a used textile machine importer such as fibre and yarn manufacturing, fabrics manufacturing, fabric pretreatment, colouring and printing and, ultimately, finishing. Textiles that are constructed in yarn can be felt (matted, condensed and pressed together) or spun fibre that is consequently netted, looped, knitted or woven into fabrics.

The methodologies of manufacturing textiles have continuously evolved over the course of history. Moreover, the choice of textiles obtainable is also affected the way people live there — how they passed, clothed and even adorned other elements inside themselves.

Here are the different machines which are often used in the textile manufacturing process:

Cloth Finishing Machines:
When textiles are knit next to each other, finishing machines are often used so that the clothes are tougher and will not disconnect as easily. These devices are being used in various types of finishing, regarding the future usage of these pieces of fabric. Compactor machines compress cotton parts together to knit them into various types of textile products, such as jerseys, clothing, interlocks and ribs.

Hydro Extractor machinery removes any liquid which may drip from the fabric or that shrinks the garment before it is sold. Balloon squeezer machines prevent the wrinkling of knitted materials from developing rapidly

Knitting Machines:
Knitting machines from a used textile machine importer, enable the production of large pieces of textiles and fabric into various clothing kinds. The knitting machinery depends on the type of apparel produced. Fine gauge knitting machinery is created for finer, lightweight composite fabrics like thin strips of wool for lightweight warm weather suits. Standard gauge knitting machines can be used for sportswear fabrics.

The best combination is medium-size knitting machines since they can fast and efficiently knit compact and heavier products both. Various models of these devices manufacture items at a variety of speeds, varying from huge knitting machines that enable businesses to produce hundreds of clothes per day, home knitting machines that enable someone with the right skills and knowledge to generate one item of primarily knitted clothes every day.

Sewing Machines:
In nearly all major textile factories, sewing machines have been used because they provide a much more effective asset for adding information and fine-tone clothing articles. In textile factories, the battalions of stitching machines use a small quantity of stitching per garment, ranging from the reinforcing of pant inset to adding labels to jeans and shirts.

Since every sewing machine needs the employee to work by hand, every textile piece is given great consideration and attention, which can cost the business more money while also creating a better product. The ultimate machines for work on textiles or garment are often sewer machines before they would be delivered from the manufacturing plant for sale in retail outlets.

Final Words:
A wide range of machinery is used by the textile industry to knit and manufacture clothes, carpets and other textile products which we use each day. These machines vary greatly, ranging from huge industrial heavy-duty machinery used almost entirely in major textile manufacturing, to simple household sewing systems that are useful for their own private work both in facilities and in people's homes.
This entry was posted on July, 27, 2021 at 12 : 19 pm and is filed under Textile Machine. You can follow any responses to this entry through the RSS 2.0 feed. You can leave a response from your own site.