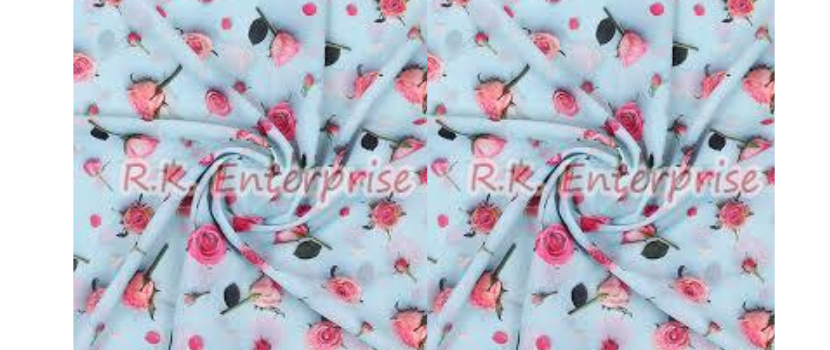 From ancient eastern textile art to contemporary digital technology, fabric printing has changed dramatically through the years. Modern businesses have embraced high-tech procedures and mechanisms to improve the effectiveness and dependability of cloth printing.
You might not be aware of the different forms of fabric printing. Choosing the one that best suits your needs might be a bit intimidating.
The various forms of textile printing involve:
Screen Printing - the method of printing on cloth using mesh. It forces ink through a screen that has been transformed into an imaged stencil. Excellent for use on cotton-based natural materials and printing dark colors. Screen printing is the primary method of fabric processing.
Digital Printing - Any technique using an inkjet printer to transfer ink on cloth. Used most frequently for printing on clothing like textiles from Georgette Digital Print Fabrics Suppliers.
Transfer Printing - Any technique using an inkjet printer to transfer ink on cloth. used most frequently for printing on clothing.
Benefits of Digital Print Fabric:
While there are advantages to each type of fabric printing, digital printing offers the most variety. Because of this, more printers choose digital printing over screen printing or transfer printing when creating personalized garments.
● Feel As If Nothing Is Printed -
You only feel the smoothness of the cloth when you touch a digitally printed fabric's pattern. The ink won't even be felt by you.
Although digital printing in dark colors might occasionally feel a little rubbery, it still has the same advantages over screen printing. Because of this, it is simple to adapt to alternative printing techniques.
● Offers More Flexibility -
As was previously noted, fabric printing technology has advanced to the point where it is adaptable enough for tiny, medium, and complete fabric patterns.
If you're seeking contemporary, non-traditional designs, the digital print cloth is a fantastic choice.
●Great For Digital Printing -
Both cotton and polyester are used in the production of more than 60% of clothing. If one or the other is not used to make the entire garment, then cotton or polyester makes up a sizeable portion of it.
●Looks Clean, Crisp, And Clear -
Digital printing creates patterns that look amazing on products from Georgette Digital Print Fabrics Suppliers. Depending on the specific needs of the client, it can match a wide range of visible colour spectrums.
●Quick And Reliable -
Digital printing is the quickest and most dependable type of fabric printing technology available. Both screen printing and transfer printing need a lot of work.
Because technology enables you to manage large orders in a short amount of time, the digital print fabric is fantastic for bespoke clothing printing.
The introduction of digital fabric printing has aided in the expansion of most sectors' businesses. Tech firms and the fashion sector both use branded garment printing to increase staff morale. The adaptability and inventiveness of digital printing on textiles assist companies in a variety of ways, including brand awareness development.
Digital fabric printing offers a host of benefits. It enables digital fabric printing businesses to save setup expenses and react swiftly to client requests.
Additionally, it gives consumers the choice to buy shorter printings with a range of designs that are only limited by their creativity.