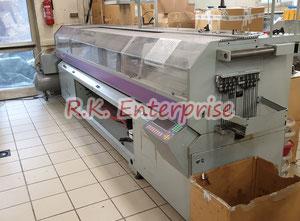 A plethora of fabrics like silk, cotton, wool, nylon, polyester, etc. and garments like shirts, trousers, jeans, suits, skirts, sarees, jackets, etc. are produced by the textile industry. Various processes like weaving, knitting, crocheting, knotting, or felting are applied on the yarns for the production of a fabric. Out of the above-mentioned processes knitting is the most popular method for the
production of a fabric. The method of knitting involves the creation of a number of loops in a series by using different kinds of threads and yarns. The loops so formed are known as stitches. A knitted fabric is formed by making consecutive rows of interlocked loops. Traditionally, the knitting job was performed by the trained professionals with their gifted hands but now there are many advanced machines that are proficient in accomplishing the knitting job. Different types of knitted fabrics can be produces by using various types of yarns and needle
sizes.
The advent of new circular knitting machine
The challenging job of knitting became as simple as a pie after the launch of the circular knitting machines. Multiple interlocked loops of the yarns or threads are created by this machine in a spiral form. It a seamless tube and the stitches going round the circle are allied with each other. When the concept of circular knitting was just introduced, it involved the usage of double-pointed needles. But as the time elapsed, circular needles were created to perform theknitting in a circular motion. This machine can be fabricated in various
specifications, to suit a specific knitting application. It is equipped with the, which are highly proficient in dealing with various types of yarns and threads.
Attributes of a top-notch circular knitting machine
 Robust structure
 Perfect finish
 Superior functioning
 Hassle-free operation
 Easy installation
 Less maintenance
 Long functional life
The employment of a new circular knitting machines leads to growth in the productivity and lowers the operating cost. It is exponentially gaining popularity in the textile industry due to its advanced features. The suppliers of these machines should take care of the following aspects-
 They should use the finest grade components and advanced mother machines for engineering a high-quality new circular knitting machine.
 They should conduct a thorough examination of the machine on the basis of various quality checks before making any dispatch.
 They should be capable of meeting the bulk requirements of the industry on a timely basis.
Thus, we can conclude that the circular knitting machines have changed the face of the textile industry.