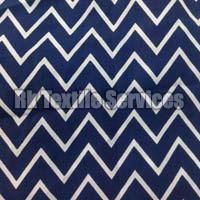 The Polycrepe fabric refers to the synthetic fabric made using ecologically-safe transfer sublimation inks that gives vibrant color and strong wash. It is light in weight and comes in a semi-sheer fabric. It is an ideal fabric used in dresses which requires a soft drape and a delicate finish. The fabric is one of the hottest selling products and is a favorite choice among women's. It is used in different apparels like dresses, blouses, and lingerie. It comes in a printed or plain fabric and available in a wide variety of colors.
Crepe is usually known for its light weave and is very commonly used in different synthetic fibers like wool, silk, and polyester. Nowadays, cotton, rayon, and chiffon are used to make crepes. The best part of using this fabric is that it stays new despite used for a long period of time. It dries at super fast speed and does not pill, shrink or fade. It has a flowy texture which is why it is very often used in sarees, suits, blouses, skirts and formal wear. The fabric can be worn all four season. It is made using an intricate procedure of weaving and sewing to get an ultra-modern finish.
The fabric needs to be washed separately in cool or warm water using a gentle machine cycle. It is machine dry at low temperatures and can be ironed on light settings to remove wrinkles. Preferably, the fabric should be ironed with the printed side down for the best results. The high temperature should be avoided, as it may result in color transfer and burning of the fabric.
The special look and comfort of the poly crepe fabric make it one of the most popular fabrics to be used in making a wide range of garments around the globe. It makes women look thinner and its effortless fall makes heads turn when used for a special occasion and formal dresses. It can be used for day to day wear as it requires very less or no ironing. The super soft feel of the fabric makes women go mad and the fabric is capable to absorb body sweat easily. It can be dyed in any color of preference and can be used in any kind of dresses be it contemporary, western, traditional or modern.
There are many manufacturers and suppliers who deal with poly crepe fabrics and provide it at very cost-effective price. There is a huge demand for such fabrics, owing to its uses and benefits. The fabric is made from the high-quality raw material, sourced from the authorized vendors in the industry. All fabrics are manufactured in accordance with the prescribed quality standards and the guidelines. The suppliers ensure the use of the latest technologies so that world-class fabrics are manufactured at a very lesser price. The manufactured fabrics pass through stringent quality checks in order to avoid any damage during transit.
Thus, it can be concluded that the poly crepe fabric is one of the most sought-after items in the recent times and its demand is increasing day by day.