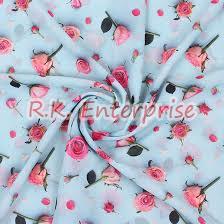 Whenever you think of an Indian designer wear, what pops into mind first? It's definitely a saree, isn't it? This colorful and unstitched fabric is the perfect nine yard apparel that simply drapes the women's body like nothing else. Talking about the fabric most preferably used for Sarees is very own Georgette chiffon fabrics in pure viscose. This is actually one of the varieties of georgette available in the market.
What is georgette?
Georgette is a light-weight, creased and pure fabric, displaying an overall bouncy look. A strong and permeable Georgette is easy to dye and has a dull & rough texture. Georgette is woven in highly twisted yarns and in two forms, i.e. pure and faux. Pure viscose georgette is woven out of silk yarns, while the faux georgette is woven from rayon and polyester.
Difference between Georgette and Chiffon
So lets find out whats the difference between the two fabrics. Actually, georgette and chiffon are two different materials. However, there is not
much difference in both the fabric other than,
- Georgette isn't being as pure as chiffon, has more like a creased look, whereas chiffon is a very sheer fabric. It can be worn with a lot of layers, in case you do not like the translucent look.
- When it comes to making a saree from any type of fabric, a multiple layered saree may sound a bit uncanny with chiffon. Henceforth, make your choice first.
- Both Georgette, as well as chiffon fabric, gives the saree a floating look.
- Georgette chiffon fabric in pure viscose is basically a weave that is warped yarn, which gives a wavy look while chiffon is more like a net type fabric, pretty translucent with a soft touch.
- Georgette can be colored easily making it preferable for a woman to Chiffon.
Here are a few types of georgette fabric available in te market:
• Viscose georgette
• Polyester georgette
• Jacquard georgette
• Nylon georgette
• Satin georgette
• Silk georgette
Here are a few Chiffon Varieties that hosted in the Indian market Place:
• Polyester
• Cotton chiffon
• Rayon
• Silk chiffon
• Nylon chiffon
For making exclusive dresses and sarees, the designers need this fabric in a big range. To fulfill this requirement, they can approach Georgette chiffon fabrics in pure viscose suppliers.
They offer fabric spun by professionals using hi-tech machines and skin friendly threads. Furthermore, contacting the suppliers directly can benefit the buyers with affordable prices, home delivery, and captivating designs with a wide range at the nominal price.