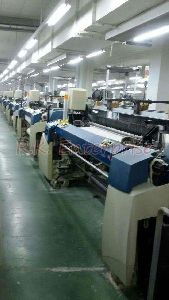 The Picanol air jet machine refers to the electrically driven weaving machine, which is designed using the state-of-the-art technology. It is equipped with a superior microprocessor performance and a great memory capacity. It has a modular build-up and has different components & tools which help the machine to give a superior performance.
The new insertion system, electronic pressure regulators, air tank helps in the weaving of different types of fabrics. The machine is user-friendly and quite flexible in nature. It has a blue box which translates all the data into different settings to give the best performance. The outer appearance of the machine is quite robust in nature which makes it durable and reliable to use in the long term. It is preferred by the people for its modularity, flexibility, versatility, and efficiency.
The split frame for style change can be done in less than 30 minutes. The machine can insert up to eight colors or yarn types. The standard design for the cam, dobby, and jacquard is the same. It does not require tools to change warp beam and cloth roll.
The Picanol weaving machine is the best choice to make the best out of the technical fabrics. Its unique features help in the full electronic monitoring and control. The machine is highly versatile in nature and consumes very less electricity. It gives freedom to the weaver to be creative and at the same time helps in optimizing time. The benefit of using the used machine is that the user has to make less investment in comparison to the investment required in purchasing new machines. The user knows about the production capacity of the used machine and can make arrangements of labor accordingly. It guarantees minimum maintenance and maximum profitability.
There are many suppliers who deal with the used Picanol air jet machines and provide them at a very cost-effective price. There is a huge demand for such machines, owing to their uses and benefits. The machines are made from the high-quality raw material, sourced from the trusted vendors in the industry. All the machines are in accordance with the prescribed quality standards and the guidelines. The suppliers ensure that all the used machines are in excellent and running condition. The machines undergo a series of stringent quality checks in order to detect the defected pieces.
Thus, it can be concluded that the used Picanol air jet machines are irreplaceable and dealers dealing with it are earning huge revenues.
This entry was posted on May, 18, 2020 at 16 : 05 pm and is filed under Used Air Jet Loom. You can follow any responses to this entry through the RSS 2.0 feed. You can leave a response from your own site.