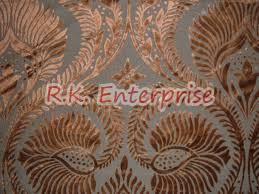 Brasso is a unique and popular term in the textile industry. Burnt-out fabric is the popular name of Brasso. It has a unique texture and form with an exclusive style like other fabric designs. Brasso's unique and attractive feature is a wispy, soft tissue-like fabric with a gorgeous design. Brasso has been used for years as a great source of creative design for craftsmen and other designers across the world. From saree to lehengas and kurta pajamas, Brasso has huge demand and popularity in Indian fashion in various styles.
Making the Process of Brasso
The mechanism of making Brasso is unique and complex. The acid itch process involves burning fabrics to create a more textured design. Manufacturers can apply this technique to all kinds of soft fabric such as velvet, chiffon, silk, and tissue.
Brasso dress material can fit perfectly for any Indian occasion, whether it is a wedding or special rituals. It is a beautiful, glamorous, and ornate design that can fit perfectly with all kinds of Indian ethnic wear. One can get the traditional style in their ethnic wear if they wear a Brasso fabric designer suit.
The Maintenance Process of Brasso Fabric
Brasso is a delicate fabric; thus, you need to follow gentle care for the Brasso fabric. Whether it is a brasso sari, salwar suit, lehenga, or Punjabi, you have to properly take care of these dress materials. If you handle the Brasso dressclothes roughly, there may be a chance of breakage of these materials.
Do not wash Brasso dress material at home. You can send these Brasso dresses for dry cleaning to get the best result. Always keep the Brasso clothes in an airtight box to maintain the fabric's longevity, colour, and design.
Designing Ideas for Brasso Fabric
Brasso clothes and fabric have huge demand due to their unique attire and design. Modern textile designers create a 2D and 3D effect on the Brasso material to enhance its elegance. Brasso dress materials can provide high-quality design at comparatively cheaper rates.
Authenticate dress designer uses unique and attractive embroidery design on the Brasso material to export quality material. With specific chemicals, dress designers can create modern and unique brasso dress materials.
Different Types of Brasso Sarees
If you buy a Brasso saree from authentic Brasso fabric suppliers, you can get numerous benefits from a designer Brasso saree.
• Saree manufacturers use sheer and solid fabrics to create a unique designer Brasso saree.
• Brasso saree provides a natural shine that provides an elegant looking on any occasion.
• The floral print is the common design pattern of the Brasso saree.
• Pure Brasso saree may be a little bit heavier than other silk saree.
• You can get Brasso saree in various forms such as velvet, corduroy, and chiffon.
• Brasso and chiffon material can create a unique designer saree that you can wear in any wedding ceremony.
But you need to select authentic Brasso material manufacturers and suppliers who can provide the Brasso saree and other dress materials at an affordable price.